BOB Laser rangefinder
Model:
bob3
Spaarpunten:
0
Beschikbaarheid:
Op voorraad
Prijs:
€189,00
Excl. BTW:

€156,20
BOB 1000D certified Laser Rangefinder:
Compact and accurate laser rangefinder for Golf

Legal for professional tournament play

Scan mode shows distance reading in real time while the rangefinder is in motion, ideal fro scanning a landscape or tracking game

Can range from 5 to 1000 yards with normal objects,

Can display range in yards or meters by push mode button for 3-4 seconds

Premium lens coating improve light transmission and optical quality

Adjustable diopter setting

Rubber armored housing improves durability

Posi-Thread battery door stays securely shut

Runs on common CR2 batteries

IPX4 waterproof rating

Backed by 12 months warranty

Includes premium carrying case and colorful package and user manual in English
Inner LCD: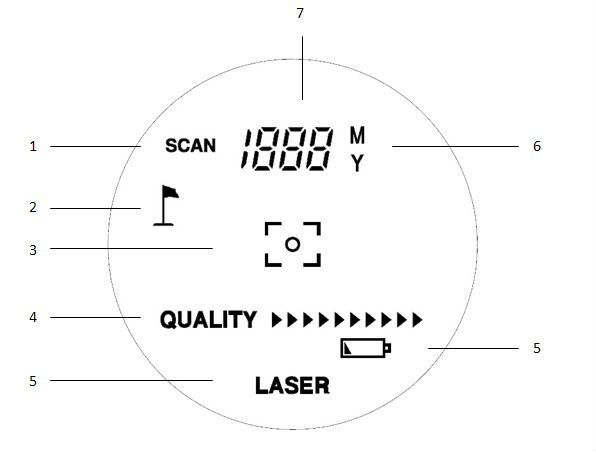 1: SCAN: Automatic Measure Function
2. Flag: Pin-seeker Function
3. Aim circle: Take aim
4. Quality>>>>>>: Target Reflectivity (more triangle more good. whereas lower)
5. Battery Symbol: if the battery almost empties such symbol will display and warm you need to change a new battery.
6. Measure unit: M/Y
7. Distance display: any distance will display in here.